Discover the Benefits of Nature in a Greenhouse: A Gardener's Story

Donna Balzer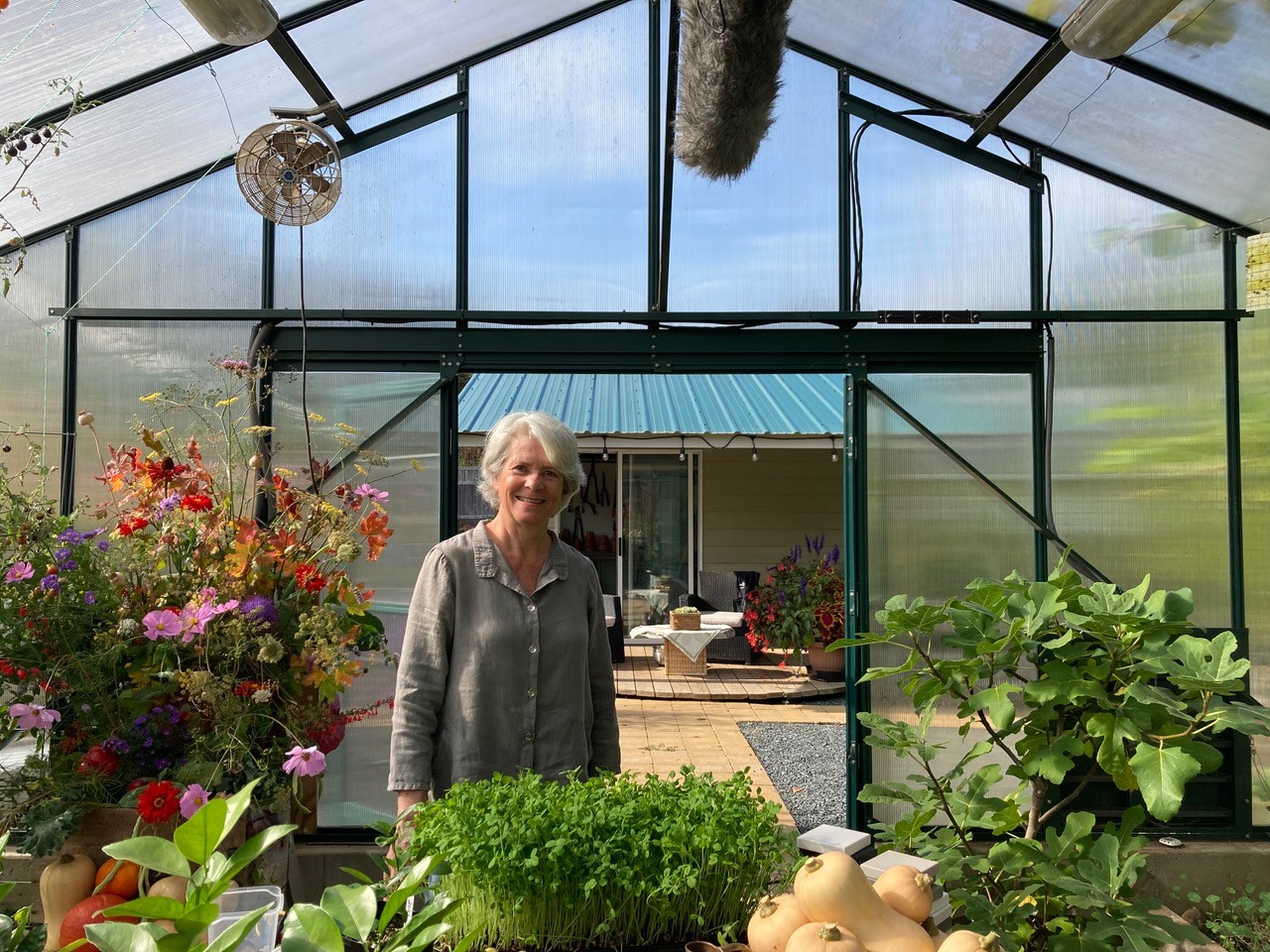 Late Fall Harvests
It's late September and I taste my first-ever finger lime, grown right in my greenhouse, and I am amazed by the crisp texture and luscious lime taste of the juicy vesicles. (See my first impressions here) And just then an unrelated email arrives. A Los Angeles-based marketing firm asks, "Will you showcase the benefits of nature on behalf of a client for an online event?"
Do flowers bloom? Does rain fall?! YES! I'll showcase nature, and better yet, I'll use my greenhouse as a character in that story.

What I Do
I love growing in my greenhouse and I understand how gardening boosts health so I enthusiastically reply to the request. My career is all about plants and I can hardly contain my excitement after the follow-up call with my new client.
I am a gardener almost year-round and I read books on gardening and biophilia in my downtime. Almost every day I get my hands dirty: seeding, taking cuttings, pruning, watering or weeding. When I am not in my garden, I am in my kitchen tasting and cooking what I grow or walking my dog in the woods. In other words, I am a poster child for the benefits of nature.
Getting Ready for Filming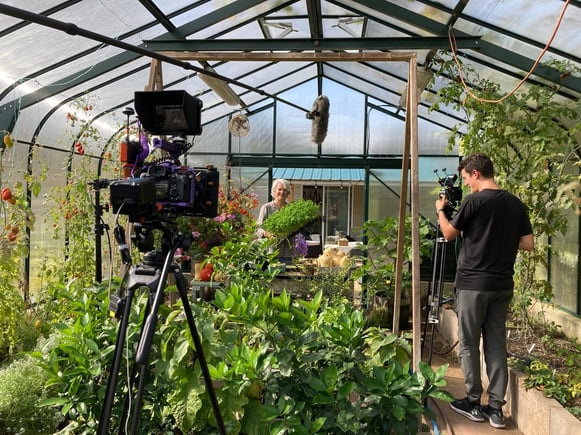 This week, a crew of three appear in my garden and another four executives from across North America participate online, giving feedback as needed. My large greenhouse in Qualicum Beach on Vancouver Island plays a starring role as I stand at my potting bench demonstrating how to save tomato seed (cut open a fruit and smear it out on a piece of paper towel. Don't forget to label it because all tomato seeds look pretty similar.)
Then I chat about growing micro-greens. "You'll be eating these in a week," I enthuse. Along the way I inspire the lead camera operator Nathan, to grow plants in his own yard. The production manager, Chris, is already convinced and actively gardens in his tiny patio home. Becka, the assistant camera, reveals that her career before video was production grower for a wholesale greenhouse grower. We are all inspired by the beauty in my greenhouse and by how nature nurtures us as we interact with it in my greenhouse on filming day.
"The garden is always forward-looking and the gardener is always looking for a better future," says Susan Stuart-Smith, a psychiatrist and the author of the Well-Gardened Mind, who tells an abbreviated tale of her own family's positive experiences with nature and the benefits it provides. And then she says "A higher level of natural complexity in a garden is associated with greater restorative potential."
In other words, my finger lime from Australia, growing right beside my grapefruit (probably originating in Barbados) is just the ticket for providing great restorative potential as the tiny round juice vesicles of the finger lime leap out onto the counter when I cut the fruit in half, and the crunchy caviar-like buds sparkle with lime juice!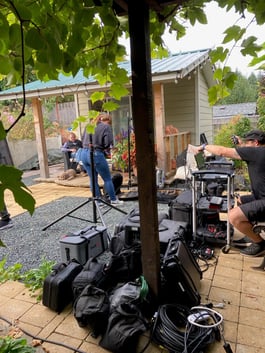 I show the crew and online watchers greenhouse crops like tomatoes, tomatillos, peppers, eggplants, basil, Kishu mandarin oranges and Charlotte day-neutral strawberries. Outdoors we look at Red Flame grapes, Green magic broccoli, saffron crocus, Hungarian seed poppies and Seychelle climbing beans.

There is power and magic in our gardens but a greenhouse grower has a little something extra. We have more time and a better environment to grow blooms and edibles to delight our families and our new film crew friends. And it's not just about the good food we grow, the beneficial bugs we attract or the calming way ornamental grass moves on a late fall day. We love our greenhouses and we order new ones as soon as we move. (Or am I the only one who just bought my third greenhouse?)
Finger limes are just one example of how nature nurtures me and helps me gain perspective on life. But we are not the only species that benefits from nature. An anonymous quote on a sign in a botanical garden I visit says "All of the flowers of all our tomorrows are in the seeds of today." So, what are you waiting for? Get some seeds and get growing. And P.S. I'll share the video session in my greenhouse as soon as it is released to me!
A few of the nature "positive" books on my shelf include:
The Biophilia Effect - explores the scientific and spiritual healing bond between humans and nature.
Forest Bathing - explains how trees help you find health and happiness.

The Nature Fix - examines why nature makes us happier, healthier and more creative.

The Well-Gardened Mind - a medical doctor's perspective on the restorative power of nature.
More from Donna
For more great tips from Donna, visit www.donnabalzer.com.
You can also read Donna's gardening books: No Guff Vegetable Gardening with Steven Biggs and keep track of your success with her Gardener's Gratitude Journal: Part Diary, Part Personal Growing Guide.