Choosing the Right Greenhouse: A Gardener's Journey with BC Greenhouse Builders

Donna Balzer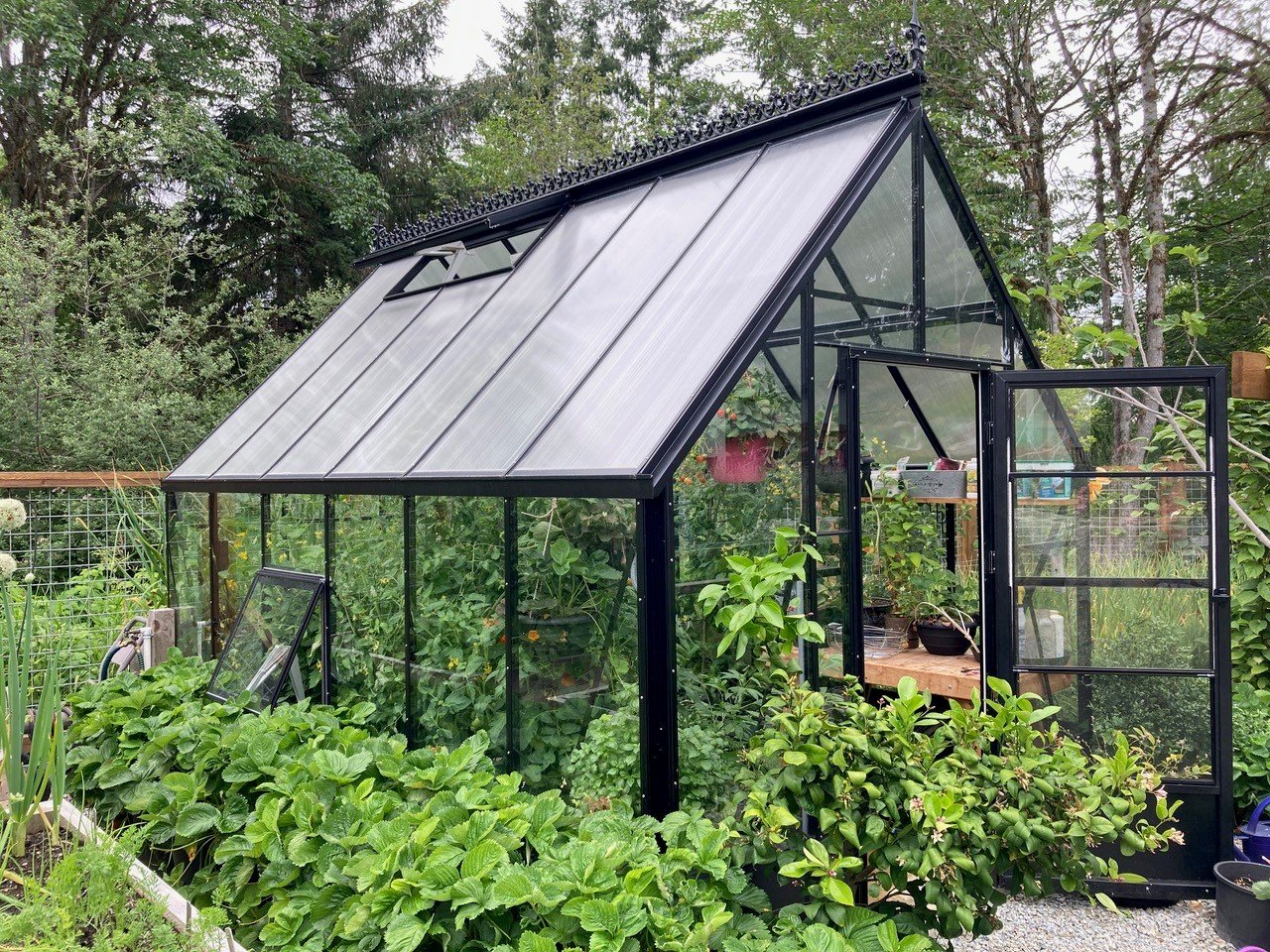 It's pretty tough to put all your thoughts into one "basket" - or in my case, one new greenhouse purchase. I'm Donna Balzer and I am a gardener and horticulturist by training. I am about to build my third BC Greenhouse Builders greenhouse this spring and you might think I should know everything about greenhouses by now.
But, in fact, every greenhouse, every situation, and every stage in your life is completely different, and that's why choosing a new greenhouse is such a challenge and such a joy no matter who your are or where you are in your life right now.
Most "helpful husbands", when they retire, will offer to build their gardening partners a nice wood-frame greenhouse. Just say no. Wood attracts pests and eventually, it rots. But worst of all, wood expands and contracts with rain and it changes, leaving cracks or gaps through the seasons.
Hint: If your helpful husband or wife wants a project, have them build an attached potting shed to the north side of your greenhouse.
I simply didn't understand how much wood expands and contracts until a contractor showed me how my hardwood floors inside my old house on Vancouver Island expanded and eventually cracked my tile floors in the bathroom beside the floor. "You should have left a gap for expansion," the contractor told us. But it was too late. The house has been renovated years before we bought it.
Is that what I want for my greenhouse? Shrinking and expanding and lunch for bugs? No way. But I am getting ahead of myself.
Greenhouse Models Vary
Luckily only the earliest models built by BC Greenhouse Builders had wood frames and today every frame is modular and built of much-improved and lifetime warrantied aluminum framing. They come like a box of Lego, ready to install and are just as easy to pick up and move. Our smallest greenhouse was built for my daughter's house but when she moved, we took it apart and left it in a pile for two years until I could convince my "helpful Husband" to put it back together for me in our garden.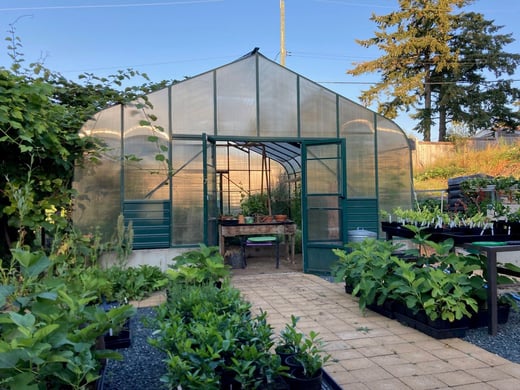 My first two greenhouses from BC Greenhouse Builders were Pacific Greenhouse models with the rounded roof. I smile when I think of the pink light on the back door of my greenhouse as I sit with a glass of wine on my patio watching the sunset.
My greenhouses are just so beautiful, whether I use them for online videos, growing food or watching "hired" ducks come and go as they control pests in the soil. In every light and every season, I just love showing off and playing in my Pacific greenhouses on Vancouver Island where the soil never freezes. But is that what I want for my new greenhouse in the sunny but colder climate of Calgary, Alberta? Is the Pacific right for my new space?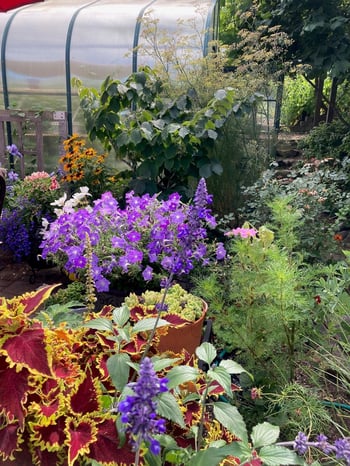 I have to think about it, and my Greenhouse Expert, Cassie, is just so kind, helpful, and understanding. This is my third greenhouse, but it is a first for my new old house. I have some steps to take along the way as I consider the various models of greenhouses available.
I started looking through the whole BC Greenhouse catalog again before I chose a model to suit my style and garden.
Garden Layout
I look at my existing yard, pretend I am a Landscape Architect and I honestly study everything already going on in the yard. Am I likely to change the garden in any major way to make room for my new greenhouse? No.
In my backyard, I have two huge trees, a small space in the middle and a very large white garage just north of my bungalow on my standard 55' wide and 110' deep yard with a 1100 square foot (110M) bungalow.
I feel I have to keep the trees for screening*. And I am unlikely to repaint the large garage or replace it. (Although I did consider this so I could put the greenhouse on top of a newly constructed flat-roof garage. The cost was escalating so fast that my "helpful Husband" got panicky and I had to back down.)
I first considered a modern shed design with a high South-facing front on view from the back of my house. I get boards and lay them on the open space to see how it will suit the site. Cassie, my Greenhouse Expert, has my ideas drawn for consideration. The proportions don't work for the area I have available. And the design is jarring with my Mid-Century Modern house and garage.
Next, I consider attaching my new greenhouse to the garage. The wall of the garage closest to my house faces south but the space between the garage and the back of my house is too small to attach a big enough greenhouse. With further consideration, I realize the back of my small, older house is too close to the garage for this idea. And the plants will be in the shade of my house for most of the day, so they won't grow much.
From my kitchen, I'm looking at the very tall white wall of the garage and I can't hide it with my attached greenhouse, so I decide my new greenhouse needs to sit on its own, imitating the same outline as my garage. Between the garage and the right side-yard landscape. I will balance the scale of the garage with the scale of the large trees. I will face it in the same direction at the garage, but beside it.
Finding the Right Fit
To fit the architecture already in the yard, I choose the Cape Cod greenhouse. The Cape Cod has BC Greenhouses' steepest roof option (12/12 with a 45-degree pitch). I don't really know what that means but I do know that when I look at these designs they're quite high, quite dramatic and almost the same profile as my garage, but smaller. I like that. I also know the steep roof will allow summer heat to escape up into the automatic vents and will also allow winter snow to easily slide off. I try to fill the whole available space with my new greenhouse and the greenhouse drawing works.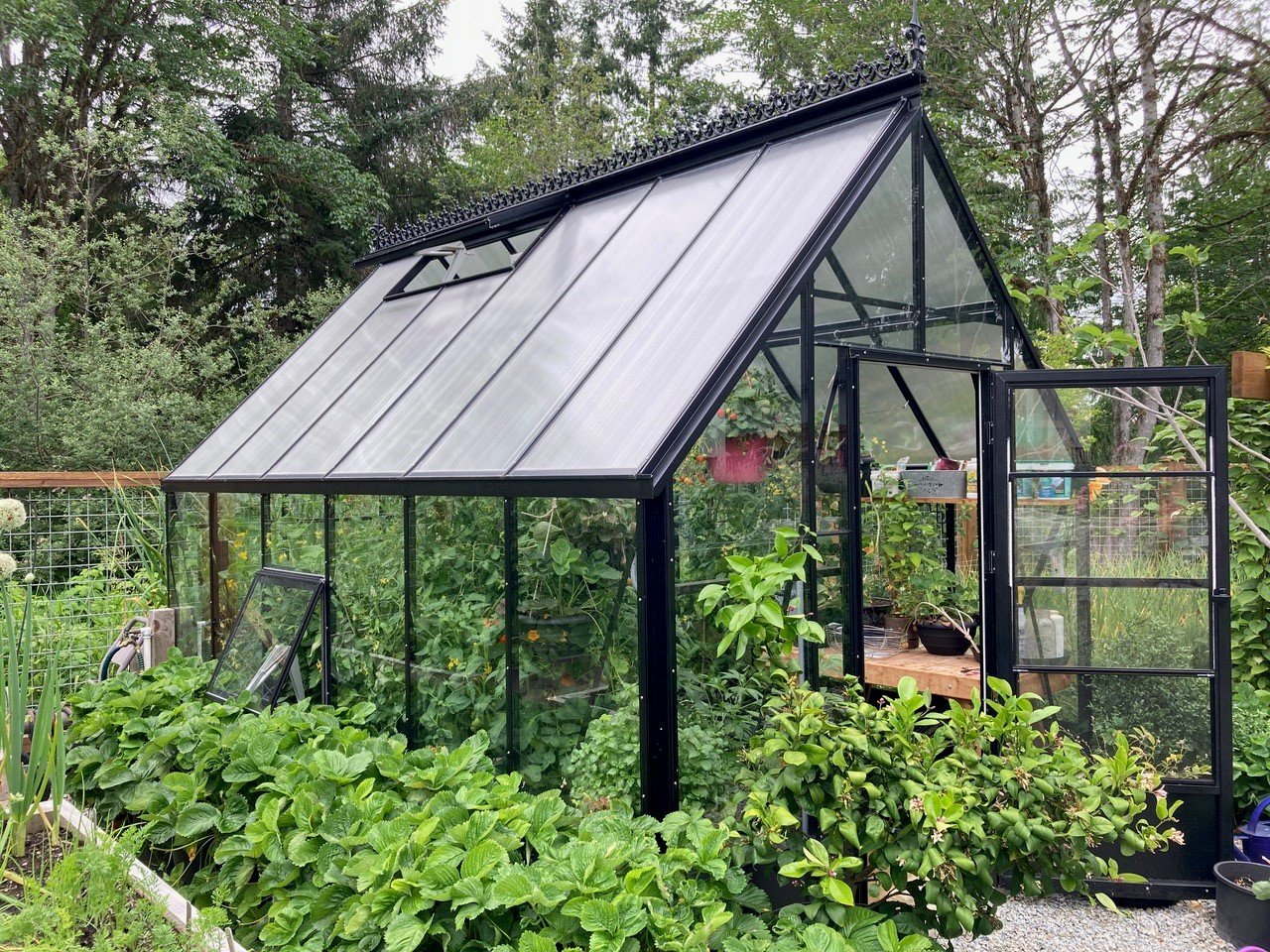 My existing really large greenhouse is a 16x20 Pacific, but I am selling the land it sits on and the greenhouse is going to Quadra Island just off Vancouver Island. My big greenhouse is becoming part of a bigger permaculture farm. But my new lot is so small by comparison to what I have now, I realize I need to scale back my Cape Cod to leave some empty space between the other yard features. I shrink the greenhouse slightly from a 10x14 to a 10x12 footprint. So, Cassie redraws my greenhouse again.
Read More about making the rest of the critical greenhouse buying decisions in Buying a New Greenhouse: Part 2
*After the greenhouse design is finalized and ordered, two trees blow over and have to be removed from my lot. This opened up a wider space, but I believe my greenhouse is the right size for my yard and I am just happy the trees didn't blow over after I installed it. I will design a small garden to fill the now-empty spot left vacant besides the greenhouse.
More from Donna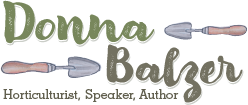 For more great tips from Donna, visit www.donnabalzer.com. You can also read Donna's gardening books: "No Gruff Vegetable Gardening with Steven Biggs" and keep track of your success with her "Gardener's Gratitude Journal: Part Diary, Part Personal Growing Guide".