Decorating Your greenhouse: Creating a Personal Oasis in Your Garden

Donna Balzer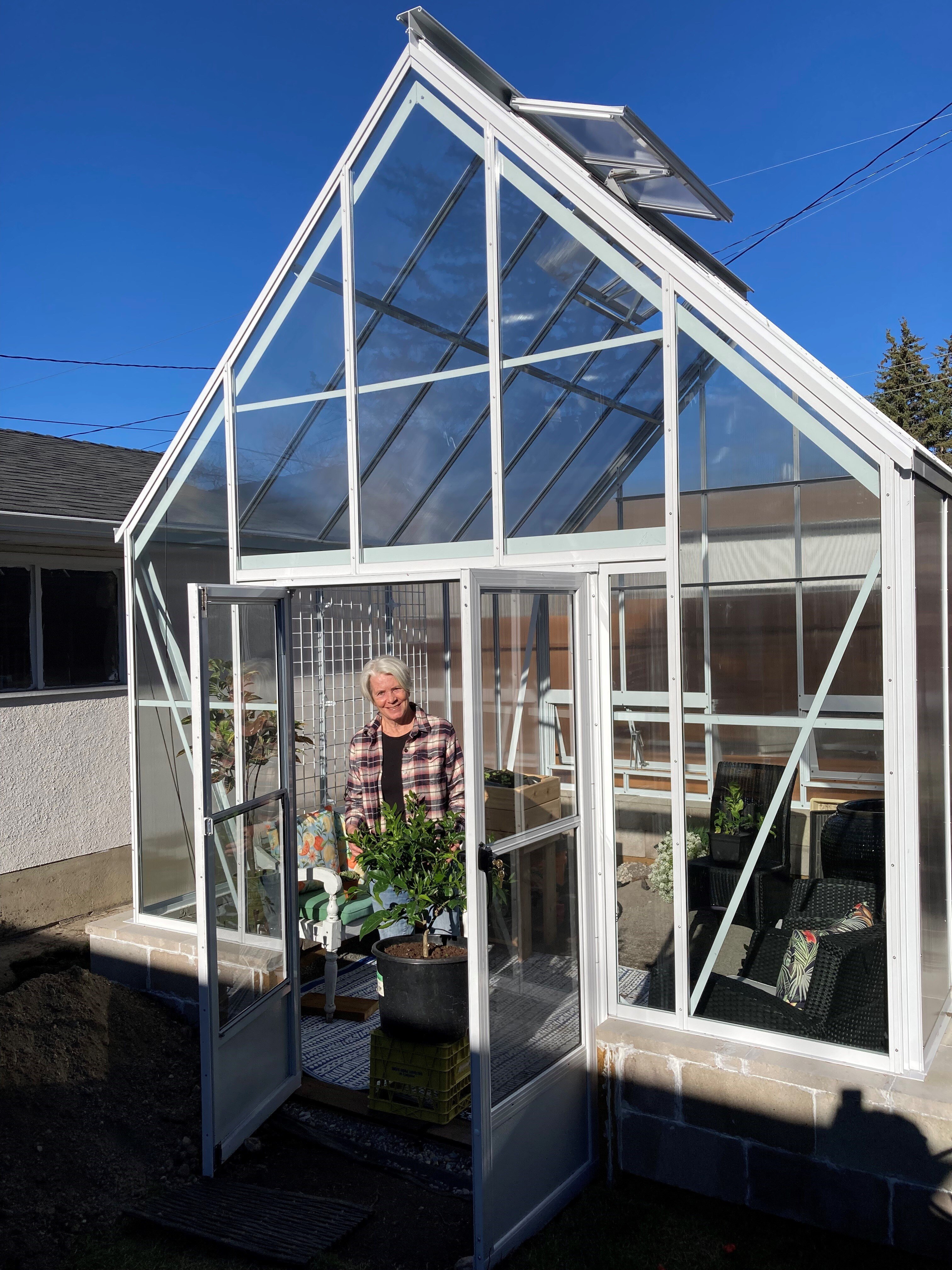 My Helpful Husband (AKA Keith) installed a door sill on my new greenhouse while I was away last week. I had no idea I needed a sill so that proves my point: I am a gardener, not a builder. I take certain things for granted.
The other thing I noticed when I got home was a huge trench snaking its way from our house to our greenhouse. "I called the electrician while you were away," Helpful Husband explained, "And he said if we dug the trench he would pop over and install power to the greenhouse."
No matter what stage you are at with your greenhouse building, you can start imagining now how you will decorate your space. And I don't mean door sills or power connections, although these are surely necessary. I am thinking of flooring, wall features, furniture and specialized pots to enhance the layout. The other, more practical stuff can be sorted out by your builder. When I think of decorating a greenhouse, I think of the fun stuff to make the space uniquely yours.
Luckily for me, I have a buddy, friend and husband who thinks about the practical things so I can focus on the creative.
1. Floors: Where Comfort Meets Functionality
My first greenhouse has a coarse gravel floor. It was my decision not to make a decision, and it was fine. My second greenhouse had a dirt floor and because I wanted to gradually fill the space with built-in planter beds, I didn't want to have to remove gravel to set up new beds. I planned to fill the voids between the planters with something but that never happened. It worked but wasn't very pretty.
Choosing the Right Flooring for Your Greenhouse
So, in my third greenhouse, I have gravel floor again, but this time I ordered crushed (10mm/ 1/3 of an inch) gravel instead of the coarser 40 mm (1.5 inch) I used before. I put the gravel over landscape fabric to slow down weed growth. I tamped it to create a great blank slate for the creative planters and furniture I plan to add.
I did consider using the super attractive Swisstrax flooring, more commonly seen in garages than greenhouses, and I even went as far as bringing samples home. It is a clean, fast draining, colorful, easy-to-install option for a home greenhouse but I decided I could add it later if I need a spot of color.
Meanwhile, a friend popped over with an unused woven polyethylene rug. I laid it over the gravel in the front half of my greenhouse where I plan to add furniture. It looks good and drains quickly because it is basically plastic so there is no need to think it will fade or mold and installation is easy: just roll it out. To maintain, just sweep or hose with water.
2. Walls: Organize and Maximize Space
Did you know BC Greenhouse Builders include a track system in their framing so you can hang shelves on the side walls and hanging baskets from your roof? I can't live without them.
In my previous greenhouses, I have attached traditional wire shelving, easily bought online, to my greenhouse walls. The trouble is that the brackets supporting the shelves need to be taken down or at least dropped seasonally when they are no longer needed. In a small greenhouse, these shelves, if left up, take up too much space after their springtime job of supporting plant trays. Older wire shelving also gradually peeled or rusted so look for brands such as Rubbermaid advertised as having peel-resistant metal.
Innovative Wall Solutions for Your Greenhouse
Only wanting a temporary shelving system this time, I looked for something different than wire shelves. I found myself in a sporting goods store and saw gridwall panels holding socks and running shoes. Suddenly, I was seeing them in every retail store, and I realized this simple system was perfect for my greenhouse.
The grids (2' x 6' or taller) are available online from several sources, in black, white and chrome. Gridwall, like wire shelving, attaches to brackets and sits 2" away from the greenhouse frame; this leaves room for rambling plants to climb up and through the grid. Different fixtures can be purchased separately to support plant trays, tools, hanging plants or baskets. With a standard 3" grid pattern, gridwall is open and bright enough to leave on the wall year-round while the fixtures used to hang or support other things are easily popped on and off. See a range of accessories including wall mount brackets at suppliers like Uline.
3. Furniture: Making Your Greenhouse Cozy and Inviting
I found a narrow black wicker chair for my old greenhouse. My initial intention was to save space in my old greenhouse with a small but classic chair. Wicker is a fantastic moisture-tolerant material, but it is hard to source because the process of weaving with wicker is a dying art and pretty labor intensive. So, I felt pretty lucky when I found a single chair at a deep discount even though by then I was selling my larger greenhouse and moving away from using my greenhouse strictly for crop production.
"Plicker" chairs and tables are available at every big box store in the spring. These plastic woven wicker-like furnishings are a lot less expensive than true wicker, last for years and are great in the greenhouse. Because my real wicker chair is black, and I have an antique wicker rocker spray-painted white, I bought black "plicker" armchairs with white cushions to complement what I already own. I also have a white antique wooden bench, perfect for two people.
In other words, I suddenly have too many furnishings for one small space, but I want to have options and can move around what I have as I sit, visit or entertain seasonally in my greenhouse.
My older and much larger greenhouse was 16 x 20 but I only had room for a single chair because I was growing so much food as well as seedlings for sale. My new smaller greenhouse is only 10 x 12 but it is mainly for sitting around with friends or reading alone in comfort with a seasonal potting bench (a slab of plywood on temporary saw-horse legs) and seasonal growing with trays of seedlings hanging from my gridwall panels. All my other plants will be grown in specialized pots.
4. Specialized Pots: Simplifying Your Plant Care Routine
Traditionally, my preferred planters are built of concrete or brick and filled with soil. I water and fertilize as needed and am on call for my plants all summer long.
But this time I am simplifying everything. My new greenhouse is all about relaxing, growing seedlings in spring, and raising plants to maturity in pots that are self-watering so that I can go away for a day or a week during the peak summer months.
In the past I have used commercial pots and built my own pot-in-pot systems, also called glabal buckets. These lobal buckets are simple to build with materials easily available around the globe. Make one yourself following the basic instructions below:
Exploring Self-Watering and Sub-Irrigated Planters
In my new greenhouse I am getting rid of everything that looks homemade. I am using specialized pots with water reservoirs, also called a sub-irrigated planters or SIP pots. And yes, like global buckets, these can be built on site, but I am sticking to commercially available pots this time because I want continuity of design.
Some of the SIP systems I have used in the past include Caja, Lechuza, and Maxikap. BC Greenhouse Builders also offers SIP Planter Beds from LifeSpace Gardens, designed to fit in their greenhouses.
Putting It All Together: Personalizing Your Greenhouse
There is no one right way to "decorate" the inside of your greenhouse. But form follows function as architects commonly say, so if you are looking for maximum production of plants on wire shelves and in permanent planters and pots your space will look different from mine.
Tailoring Your Greenhouse Décor to Your Gardening Style
This time, my "function" is all about pretty and seasonal. I will grow mostly during the summer and the shoulder seasons and use the greenhouse as my winter escape from wind and chill only when the sun shines. I will enjoy my comfy furniture on that sunny February morning when the temperature spikes. You'll find me drinking coffee and reading seed catalogues in anticipation of getting my hands dirty.
Meanwhile, as I stroll out to the greenhouse to check on electricians, I discover they are about to install florescent lights from the roof of my greenhouse. No, not this time. Helpful husband missed the memo. I have no need to check on plants in the dark of winter in this cold mid-continent location. Instead, I plan candlelight, small twinkle lights or rope lighting to give ambience in winter.
So, I ask the electricians to install the double bulb florescent lights in my husband's work area in the garage instead of the greenhouse. Surely helpful husband has a project he wants to do there and the light in the garage is always dim compared to my full sun greenhouse.
This greenhouse is my dream house, a pretty place to sit and smell the soil. This week I am smelling the saffron as it blooms in my Caja pot. Heavenly. So, start planning and find just the right decor and plants for your new shiny space. I'll meet you there in my daydreams.
For More Greenhouse Planning Tips Order Our Free Catalog Today!