Building a New Greenhouse: Choosing the Right Design and Features

Donna Balzer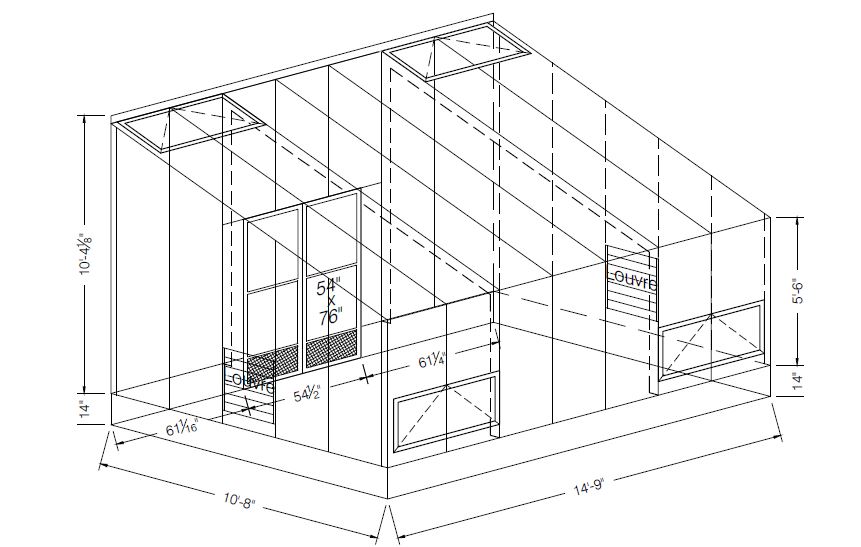 Building a New Greenhouse: Best Features and Design Ideas
What is the best feature of your existing greenhouse? And what would you change if you could do it all over again and build a new greenhouse from scratch?
These are the questions I am pondering on a sunny summer day...
But let's back up. I already have two beautiful BC Greenhouse Builders greenhouses! But when a change in circumstances suddenly allows me to buy a new house in a different, colder city; I jump on it. And now I need a new greenhouse to fit that new spot.
My current BC Greenhouses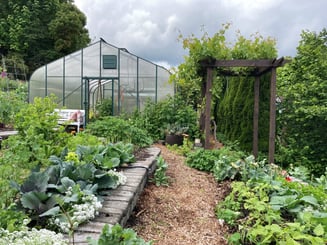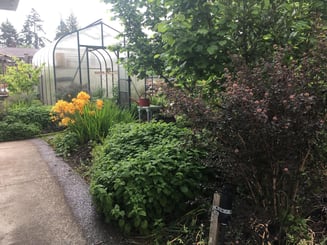 The newly purchased house will bring us closer to our grandkids, and after Covid-19, being closer to them sounds fantastic. The trouble is, the new house doesn't have a greenhouse and the climate is three zones colder. I am definitely going to need a place to shelter from the storm as well as grow plants.
If a greenhouse is a dreamhouse, this new housing opportunity gives us the chance to refresh our thinking, including the greenhouse use and design. I want to build just the right greenhouse to fit our new situation.
Choosing the right location for your Greenhouse
The helpful husband says no, definitely not. In reality, different municipalities have different rules and height restrictions for rooftop structures so check out your local rules.
Again, this is not going to work for us. Our backyard faces north and the open space is squeezed by the garage.

Should I try a shed design where one side is taller than the other?
My greenhouse expert is drawing it up as an option. In good news, I will be able to incorporate the lovely double doors I currently have on my existing greenhouse. That is a definite yes.
Is bigger better?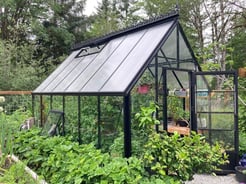 Like other home growers, I agree a bigger greenhouse is usually better. Unlike other growers, my existing greenhouse is already big compared to my new smaller space. I currently have a 16x20 Pacific greenhouse with curved sides, vents, double doors and polycarbonate siding. It is perfect, but the space available on the new lot is much smaller and will not accommodate such a grand greenhouse.
Designing a Greenhouse for Your Specific Needs
Getting Started with BC Greenhouse Builders
I measure the available space and start working with my BC Greenhouse Builders Greenhouse Expert right away. A few designs go back and forth and we decide it is best not to use the entire open space for a greenhouse. So, instead of a 10x14, I am scaling it back to an 8x12 so I can include a few colorful shrubs beside the greenhouse and install a small patio between my home and the greenhouse.
Design ideas start flowing. I confirm I want to take advantage of the drop door option offered by BC Greenhouse Builders. A dropped door gives a taller greenhouse, if using a knee wall of significant height, and allows plants to grow on shelves and in hanging baskets as well as on the ground. I am all-in with the drop door feature and decide on a 20' poured concrete foundation to be installed before the greenhouse arrives.
Purpose of the Greenhouse: Year-Round Growing and Relaxation
How you use your greenhouse will always be your first consideration when planning a new greenhouse. When I built my first greenhouse, I wanted to maximize my growing area in my 8' wide x 12' footprint to stretch winter into spring through fall. And then I added my 16x20 greenhouse of the same design and green in colour to do more of the same.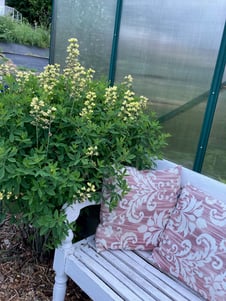 I grow flowers inside for planting outside in spring pots and I grow permanent plants like lemons and bananas in pots year-round. I also grow seasonal food plants like lettuce, peppers and tomatoes. Last fall I seeded arugula and broccoli in my permanent bed on October 27 and harvested it from February until it was replaced with summer crops in May.
In my new greenhouse, I plan to include a comfortable seating area across the back width of the greenhouse. This seating area will include an "outdoor" couch covered with Sunbrella fabric cushions in case it gets watered by accident. Occasional chairs and a coffee table will let us relax, listen to birds and enjoy the backyard's changing seasons while sitting out of the rain and wind. I will install wicking beds (also called self-watering planters) and add drip irrigation to larger seasonal pots because we want it to look pretty all the time even though we will only visit, rather than live in this secondary home.
Different Greenhouse Uses
Is your greenhouse covering a swimming pool? Are you growing food year-round? Different uses mean different designs. I want a comfortable space with one clear glass side that I can view from the home. All other sides will be polycarbonate because of it's improved insulating value in my cold climate.
Best Features Revisited
The best feature of my current greenhouse is the generous size and raised foundation. I have shelves for growing seasonal plants, space for pots of exotic plants and permanent beds for growing year-round vegetables. I also have a large functional potting bench for seeding and transplanting seedlings.
Yes, I currently eat Romanesco broccoli in December, make pizza with freshly picked arugula in February and pick lemons almost year-round from my current greenhouses. But in my new greenhouse, I will be limited to a smaller, colder footprint. To keep things flexible and just right for the new location I will pour a foundation and grow plants in pots that can come and go as the season's change.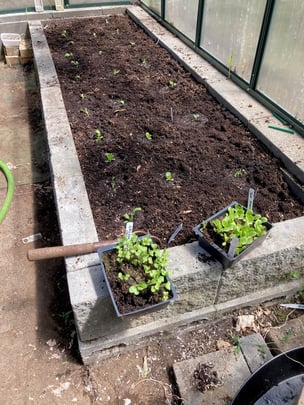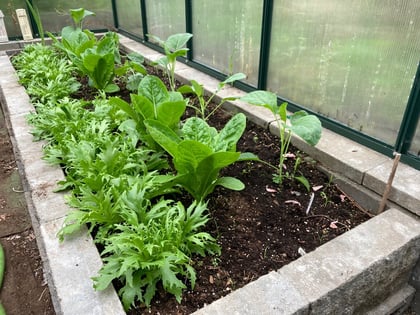 My new greenhouse is going to be different from my current greenhouse but I am ready for the new look. With Automatic vents that open on hot days standard with all BC Greenhouse models and aluminum framing that won't shrink and expand in changing temperatures, I am all set to enjoy my new greenhouse in my new backyard. All I need to do is decide on one of the standard colours and I think I have that figured out already. Stay tuned!
More From Donna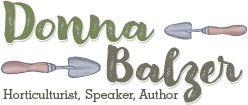 For more great tips from Donna, visit www.donnabalzer.com.
You can also read Donna's gardening books: No Guff Vegetable Gardening with Steven Biggs and keep track of your success with her Gardener's Gratitude Journal: Part Diary, Part Personal Growing Guide.