Buying a New Greenhouse: Part 3 - Challenges & Progress

Donna Balzer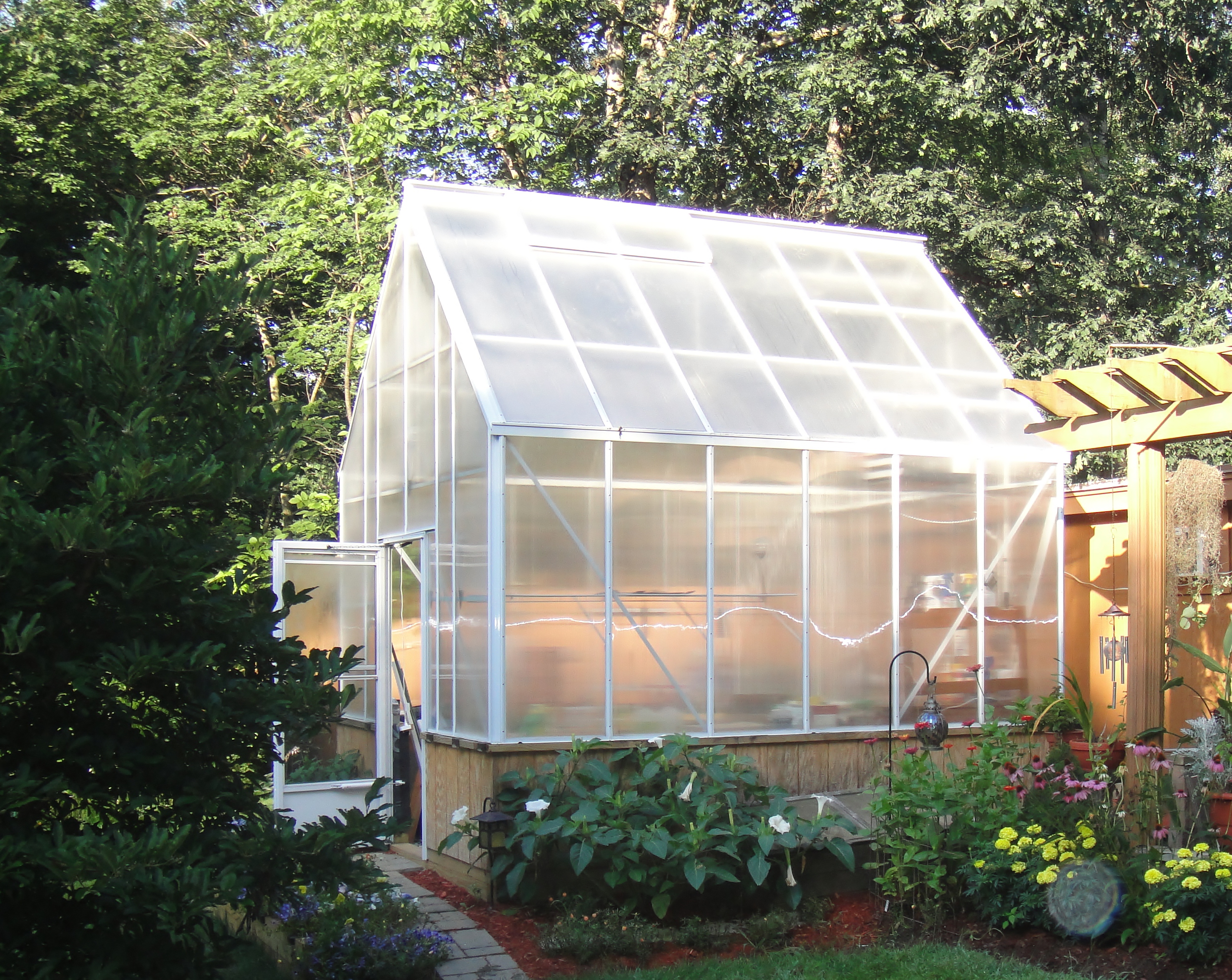 Challenges and Surprises During Greenhouse Construction
"The best laid plans of mice and men often go awry. *" I just never thought they would go awry during the construction of my new greenhouse.
Careful Planning: Choosing the Right Design, Location, and Glazing
If you have read parts 1 and part 2 of my posts "Buying a new greenhouse" you know how thoughtfully and carefully I have planned my latest greenhouse project.
Before it was even ordered, I went over several greenhouse design options during long conversations with Cassie, my sales rep from BC Greenhouse Builders. I chose the design for me, best location, colour and greenhouse covering. I planned how it would neatly fit between a rock and a hard place (my garage and two 50-year-old evergreen trees), and I arranged for delivery and installation just before winter 2022. So far, so good.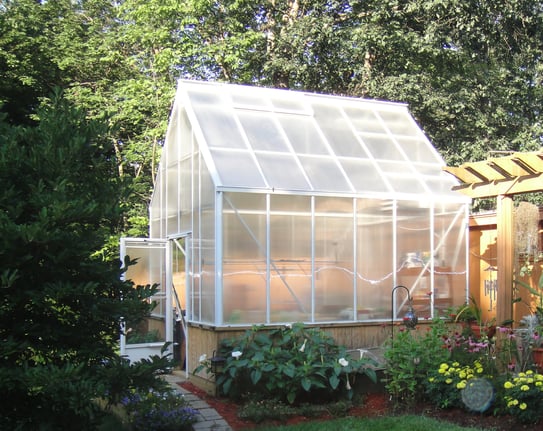 My Greenhouse will be pretty similar to this one here. A white Cape Cod style greenhouse.
Previous Experience: Lessons Learned from Past Greenhouse Installations
To recap, this is not my first rodeo. This is, in fact, the third BC Greenhouse Builders greenhouse I've purchased and the fourth installation because I moved my first greenhouse 1,200 km to the west coast five years after installing it initially in Calgary, Alberta. Now we are moving back to Calgary but the West Coast greenhouse fits into its landscape so well, we just can't bear to move it again. So, we ordered something new for our new space.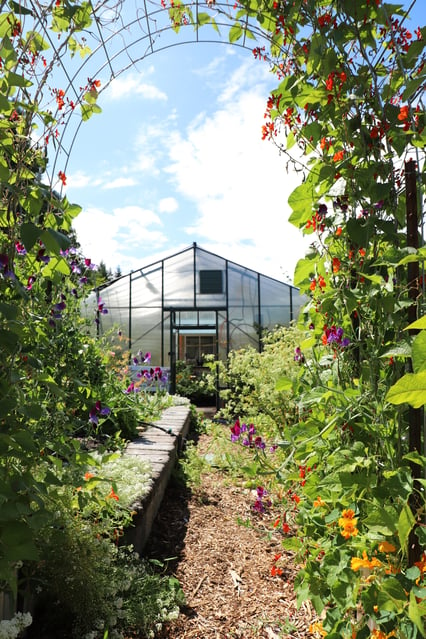 Here is a picture of my beloved 16 x 20 Pacific Greenhouse that I will be leaving behind in Western Canada.
You may be thinking "What could go wrong?" The information provided on the BC Greenhouse website and in their "Ultimate Guide To Planning Your Greenhouse | First Steps to Buy a Greenhouse" booklet is so fully organized and developed, how could there be any surprises? But life is like that and hopefully my experience will help others get ahead of the "situation" because once you have your greenhouse ordered, you get impatient to get growing in it.
Unexpected Obstacles: Tree Emergencies and Frozen Ground
So, to back up, I ordered a white 10' x 12' Cape Cod greenhouse in 2022 for my newly purchased home in Calgary, Alberta. I received the greenhouse in October 2022. As of June 2023, the greenhouse is still in its shipping crates in my garage but that will change shortly because hurdles such as weather and foundation construction are behind us now. But, ah, I am getting ahead of myself.
Tree Troubles: Dealing with Blown-Over Trees and Electrical Hazards
Shortly after I finish my new greenhouse "plan," designed so that it wedges neatly between two mature spruce trees and my garage, we get an emergency call while we are driving 1200 kms over the mountains to our new home in Calgary. There is a storm in Calgary and our backyard trees are blowing over. The electrical lines are between the trees so there could be danger to our and our neighbor's property. I spent hours during the long drive on hold to our local utility firm because we are not the only emergency relying to make contact during this unprecedented summer storm.
When we hear our trees are falling over, we are still six hours away by car and the internet is intermittent on our mountain journey, so we ask our contractor to call an arborist to remove the trees before they cause any damage.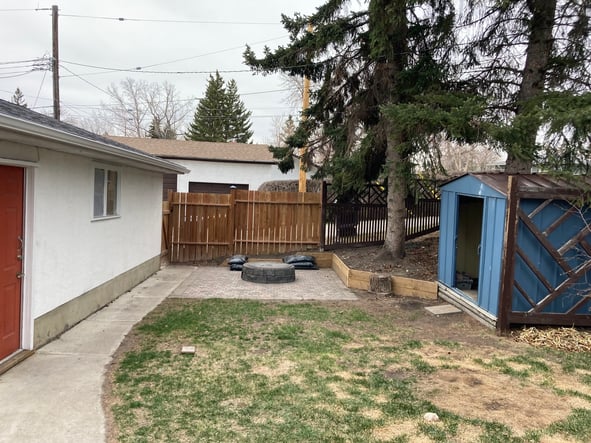 Our new backyard prior to the trees bring removed and that horrible storm.
I know I can still change the design of my greenhouse because even though I have signed my contract and made a down payment for my new greenhouse, BC Greenhouse Builders will do whatever it takes to make things work for clients.
But because there are so many other decisions to be made with our major house renovation, we decided to leave our greenhouse plans as-is and it's a good thing. I am a horticulturist, so can easily buy new trees and make things right once the greenhouse is in place. And besides, we are in the middle of the furnace, drywall, and new insulation installation. I need to discuss paint colours with my consultant and we need to finalize the house electrical layout and wall changes with our contractor. The greenhouse can wait. And it does.
Timing Matters: Dealing with Frozen Ground
When you move from a mild zone 7-8 climate to the much colder zone 3 it becomes obvious very quickly that you are "no longer in Kansas" as Dorothy says to her dog Toto in the Wizard of Oz.
While my house is getting new lipstick and lighting, the delivered greenhouse is sitting in its carefully crated state, and by the time we ring in the New Year, and major elements of our house construction are complete, it is too cold to start thinking of building a greenhouse foundation because the ground is frozen solid and buried under heaps of snow.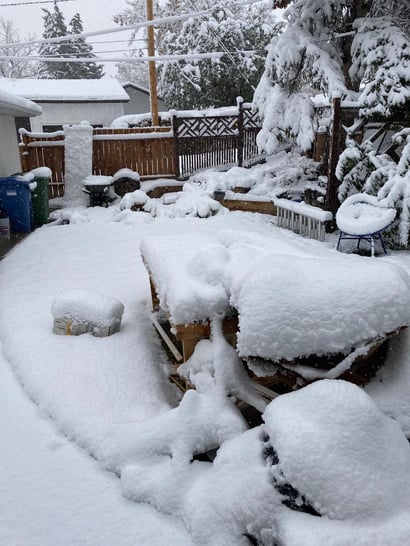 Our yard covered in snow in early November. So unfortunately, our greenhouse had to way even longer to be installed.
Meanwhile, I hear from our local installer, Stacey, that he is putting up greenhouses almost every day - even in winter - because he built the foundations before the ground froze. This is insight number 1. If you have finished dreaming and already ordered your greenhouse, it is going into production and before you know it and it will be arriving soon. If you live in a cold climate, use your summer wisely and build your foundation even before you receive your greenhouse. As mentioned, this is my third Greenhouse and fourth installation. I should have known the ground would be frozen in my cold climate. But with the number of decisions being made in moving to a new home this one was forgotten.
Moving Forward: Overcoming Challenges and Progressing with Construction
It is my one regret as I go to the store to buy the basic food I have easily grown in my greenhouses for twenty years even during snow, cold, and wind. But as our final snowstorm blows in at the end of April and delays our construction further, I am looking ahead, always.
The best laid plans of mice and men often go awry. We ordered and planned to build our greenhouse in 2022 but got stuck in renovation hell and couldn't begin. Now, finally, in early June 2023, we are in the process of building our foundation, and we will soon be set to start installation.
In the next blog, I go over some of the most important steps we had to take before building our foundation. Stay tuned!
* Adapted from Robert Burns' poem "To a Mouse."
Get More Greenhouse and Gardening Inspiration from the BC Greenhouse Builders Catalog