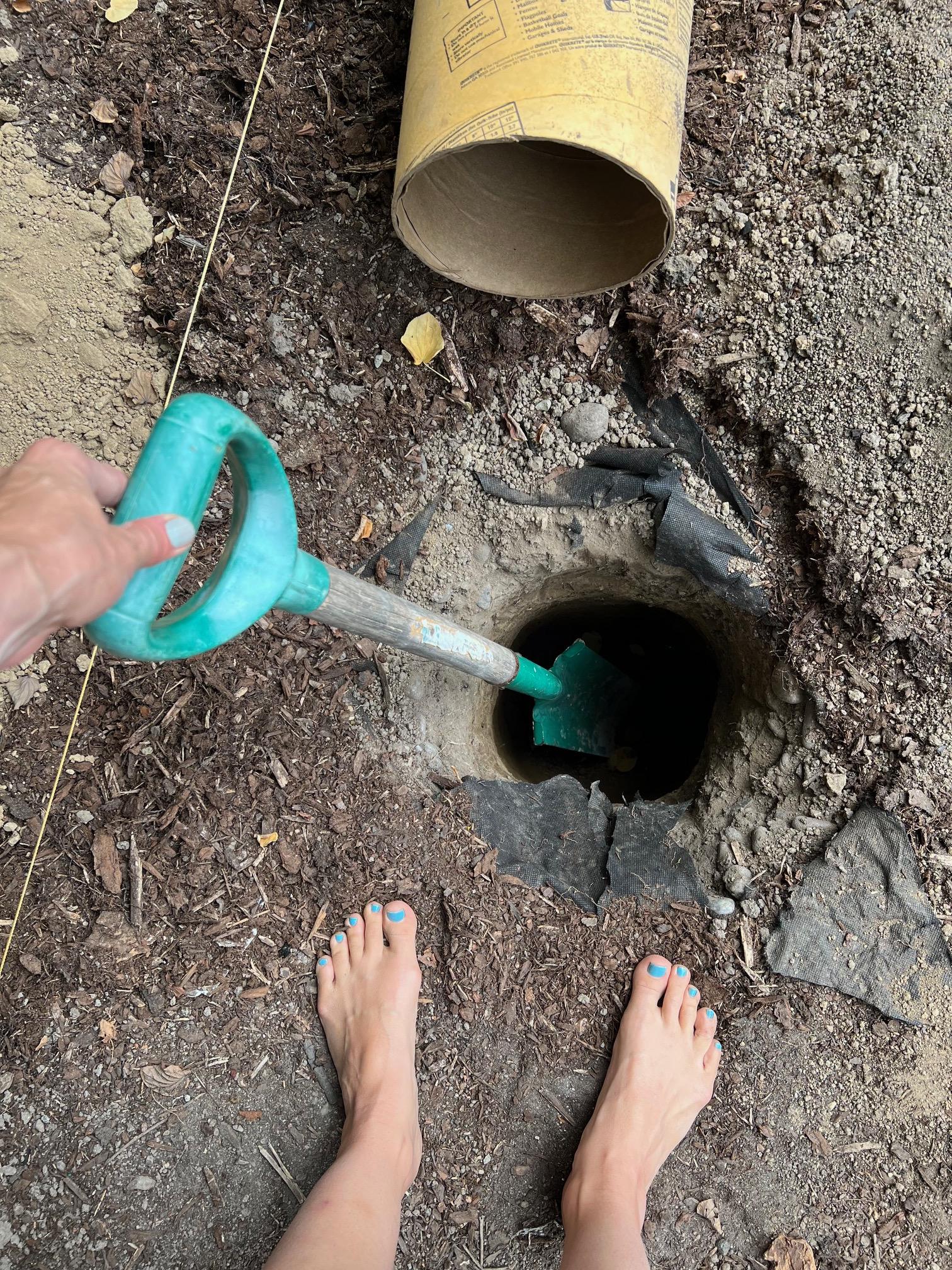 Construction is well underway in preparation for my greenhouse! It took time and careful consideration to get the site just right. Since this is my 'forever' greenhouse, I needed to make sure that I took into account a number of factors before getting started.
Site Selection
This was the most important consideration. I am grateful that I had guidance from the BC Greenhouse team to ensure that my greenhouse would be ideally situated in my garden. I actually ended up selecting an entirely different site thanks to their input.
My greenhouse will be located in the back corner of my garden, partially under a mature deciduous tree. This will provide some shade (and relief from the heat!) in the peak of summer. When the tree drops its leaves in the colder seasons, it will allow for full sun.
This spot is also free from utilities and large roots, so construction of the foundation will be unimpeded. We also needed to check with our local bylaws to ensure that the greenhouse was the proper distance from our fence and that it was well within the size permitted for an accessory building structure.
Foundation Choices
My 8'x10' Cottage greenhouse will have almost all glass panels, so it will be HEAVY. Selecting and preparing a proper foundation is critical. There are two main options for your foundation: wood or concrete.
We decided that we did not need the extra support that a slab provides. Pouring a concrete slab is also more expensive and would require hiring professionals.
We opted for a wood-style foundation, which still requires some concrete support. The greenhouse will be resting on concrete tube "footings" which will keep the greenhouse level and prevent settling.
BC Greenhouse has a helpful resource to explain the basics of foundations: 'The Essential Guide to Greenhouse Foundations."
Building a Foundation Wall
When configuring your custom greenhouse kit, you will have the option of selecting full glass panels to have your glazing resting at ground level or raising your greenhouse on to a foundation wall. I chose to construct a foundation wall.
This was for three main reasons:
During the colder months, the foundation wall will help to keep more heat in than if I had full length single glass.

It would prevent accidental damage to the glass panels when working around the perimeter of the greenhouse.
Aesthetics! It will have more of a cozy cottage vibe than a conventional greenhouse.
The greenhouse will be resting on this wall, which is supported by the concrete foundation footing.
Practical Greenhouse Flooring
The last consideration for preparing the greenhouse site is the flooring. I will be laying down a high-quality weed barrier (don't skimp!) and ¾" crush gravel on top. This will allow for drainage, and it will be low maintenance.
Final Thoughts: Embracing the Greenhouse Journey
There is a lot of deliberation and work that goes into preparing for a greenhouse! Don't let this deter you. This is a permanent structure that, in many ways, is similar to adding a tiny house to your garden.
Every day, I get closer to my greenhouse dream. I can't wait to finally be able to spend year-round in my garden. I hope that you will join me on my greenhouse growing journey!
Want to learn more about greenhouses and all your options? Order our free Catalog now!