Benefits of Head Lettuce: Why Grow Your Own Lettuce This Season

Donna Balzer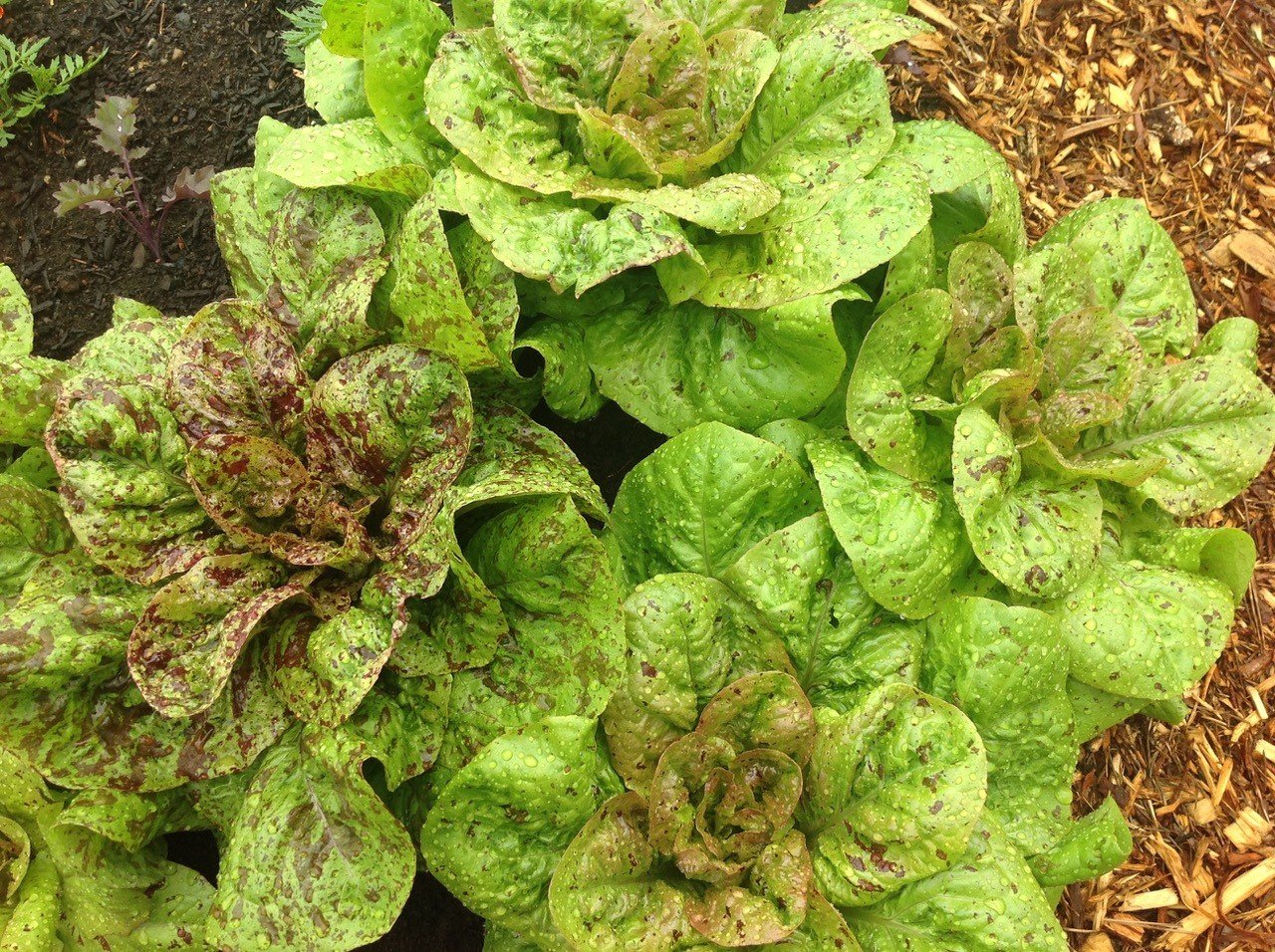 If you watch old re-runs on Netflix you have seen how fashions and styles have changed dramatically since Seinfeld was filmed in the 1990s. The same is true for food – especially lettuce.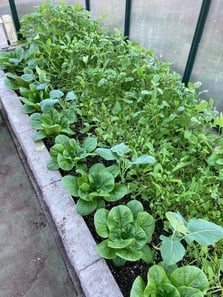 I first wrote about "novel" mesclun greens (mixed lettuce) in 1995. Since then, they have become so popular, that bagged lettuce is the only lettuce most people know. And this is too bad because lettuce greens or bagged greens are really just immature greens like kale and lettuce leaves. So, for something completely novel, why not go back to the future? Grow full-size head lettuce in your Greenhouse Garden this year.
Most people don't remember life before the small bags of lettuce leaves so commonly sold now at big box stores and local farm markets. But if you want the crunch of lettuce in a BLT sandwich or if you want to replace Pita bread with a Keto-friendly lettuce leaf wrap for lunch, then start growing your own heads of lettuce this season.
Advantages of Microgreens:
The small leaves commonly sold as washed lettuce leaves in bags are easily grown under light and always have the same soft texture when eaten. They stay small for a week or more, do not need a greenhouse and are easily harvested in two to six weeks. These leaves are soft and wilt fast so they need to be washed and refrigerated immediately after picking. They also need to be reseeded frequently to keep the greens coming.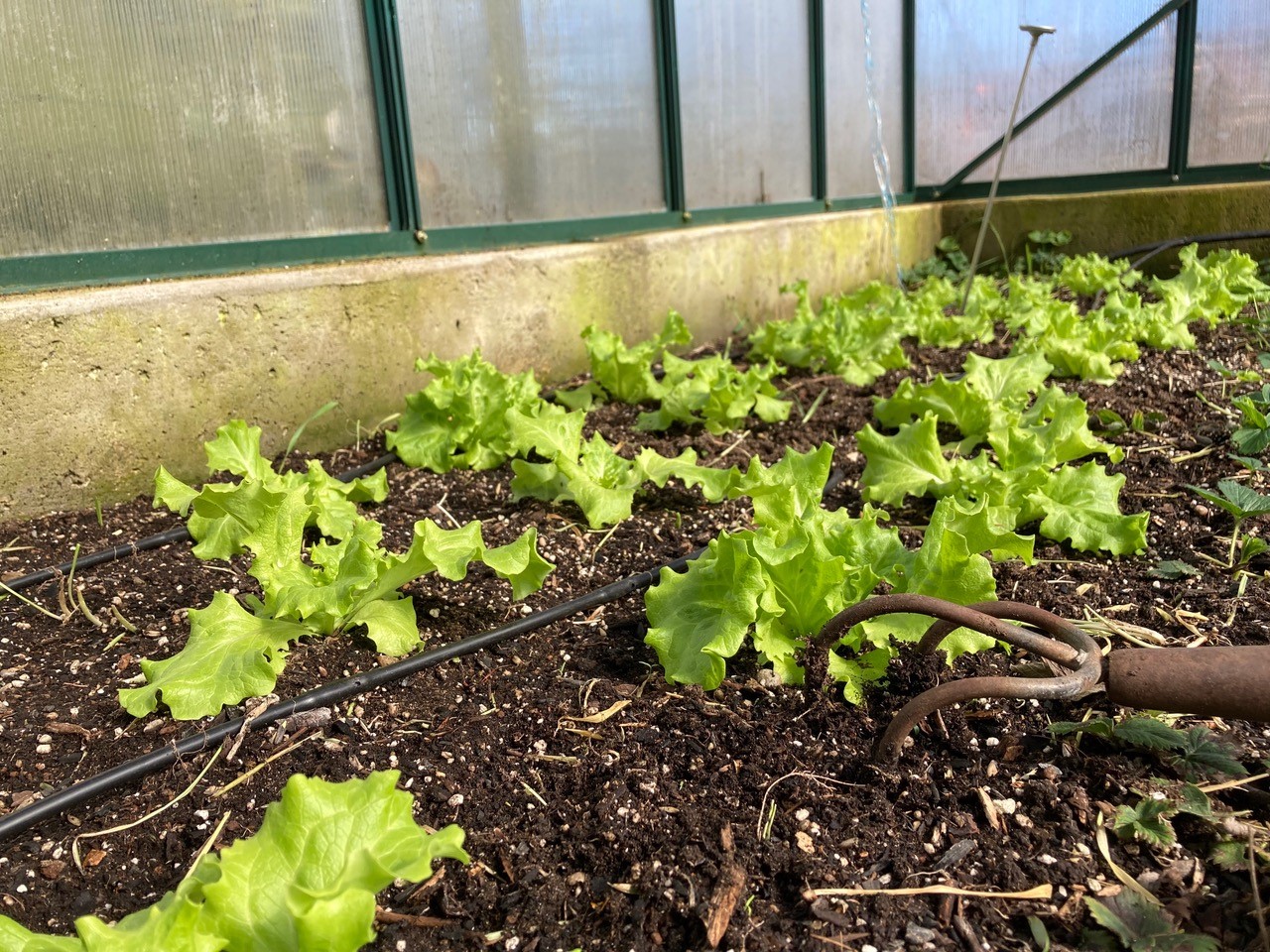 Benefits of Head Lettuce:
I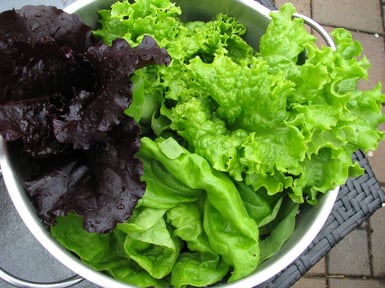 f you want to grow large impressive heads of lettuce, use the cracks and crannies between larger plants in your greenhouse to grow lettuce this summer.

Growing lettuce "heads" allows you to use up those small, less than square-foot spaces between seedlings of larger greenhouse plants. In fact, earlier this spring, I transplanted heads of leaf lettuce between cauliflowers planted in early March. I was thinking I could harvest all the lettuce before the cauliflowers got too big. This has worked beautifully and I am just seeing soil gaps between cauliflowers close now. To keep the lettuce coming, I recently transplanted more young lettuce seedlings between my newly planted greenhouse tomatoes. The indeterminate tomatoes will shade my lettuce as they fill the vertical space above.

Individual heads of lettuce, harvested as they mature, make daily salads possible in my kitchen.
Varieties of Lettuce to Try:
There are so many types of lettuce but the four most commonly grown are leaf, butter, crisp-head and romaine. Each type has multiple varieties available. According to Steve Solomon, a former farmer and author of several books including The Intelligent Gardener, higher levels of nitrogen in the soil lead to darker green leaf colour and higher protein levels in all types of lettuce.
Leaf Lettuce
Leaf lettuce can be picked one leaf at a time but I simply slice off the whole plant at its base. I find leaf lettuce, with its tightly curly edges, adds loft and volume to salads. I usually triple wash a head or two of leaf lettuce, chop it, add pumpkin seeds, greenhouse-grown green onions and a simple dressing of avocado oil and lemon before serving it immediately. Leaf lettuce comes in dark red and bright green shades so look for the variety you like and plan for 45 to 60 days to grow mature heads in your greenhouse.
Butter Lettuce
Butter lettuce is usually pale green in colour but also comes in red-tipped forms. Butter lettuce is so tender and enjoyable, especially in early spring when the lettuce grows so fast it seems to double in size overnight. Try it again in later summer for a fall crop. Watch my ten year-old grandson, Nathaniel, as he describes this, his favorite lettuce, in my greenhouse.
Crisphead Lettuce
Crisphead lettuce, formerly called iceberg lettuce because it was packed in ice and shipped on rail cars from California to New York City in the 1950s and 60s. The lettuce arrived in perfect condition for consumption in NYC restaurants, but before it was eaten or sold, most of the green outer leaves were removed and this left a very pale green ball of leaves. Crisphead lettuce is definitely better than store-bought. Homegrown crisphead lettuce is a crunchy tasty delight in sandwiches and wraps.
Romaine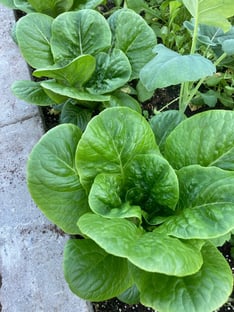 Romaine may seem like single-use head lettuce but in fact, it has two great uses and one feature most greenhouse growers usually forget. Romaine is more heat tolerant so thrives under light shade even in the summer greenhouse, and it is fantastic both grilled on a barbeque or served fresh in Caesar salads.
Limitations Of Lettuce
Lettuce of all kinds need continuous moisture and shade in summer. It grows best in organic soils under a light layer of floating row cover or beneath taller plants. This year I am growing lettuce under cauliflower and tomatoes. To give plants the moist soil they love, I've added a drip irrigation system.
Saving Seeds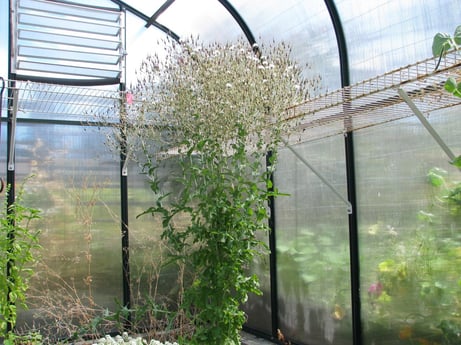 When it starts going to seed, a head of lettuce starts to bolt or grow tall and pointy. At this point, the sap becomes bitter and the lettuce is not tasty. Let one head of lettuce go to seed and you'll have hundreds of seeds for years to come. The only reason to buy new seeds after a while is to try new plants like the very interesting and stylish Frisygo crisphead lettuce. I was smitten with this plant last year and have included it on my list of must-haves for 2022.
Convenience
At first glance, microgreens seem easier to buy and use. In the garden, they grow quickly and are always available.
But if you start growing head lettuce you will discover it is actually a fantastic option. You can start a few seedlings in a tray and transplant them over time. Once the large heads are harvested and washed, they can be stored and served from the fridge for a 1-2 week period whenever you feel like a salad. The various colours and textures will tickle your taste buds and inspire your salads. You can literally change the salad just by changing the lettuce even if the dressings and additives like chopped peppers or pumpkin seeds stay the same. And best of all? A good salad never goes out of style.
More from Donna
For more great tips from Donna, visit www.donnabalzer.com.
You can also read Donna's gardening books: No Guff Vegetable Gardening with Steven Biggs and her just-released Gardener's Gratitude Journal: Part Diary, Part Personal Growing Guide.