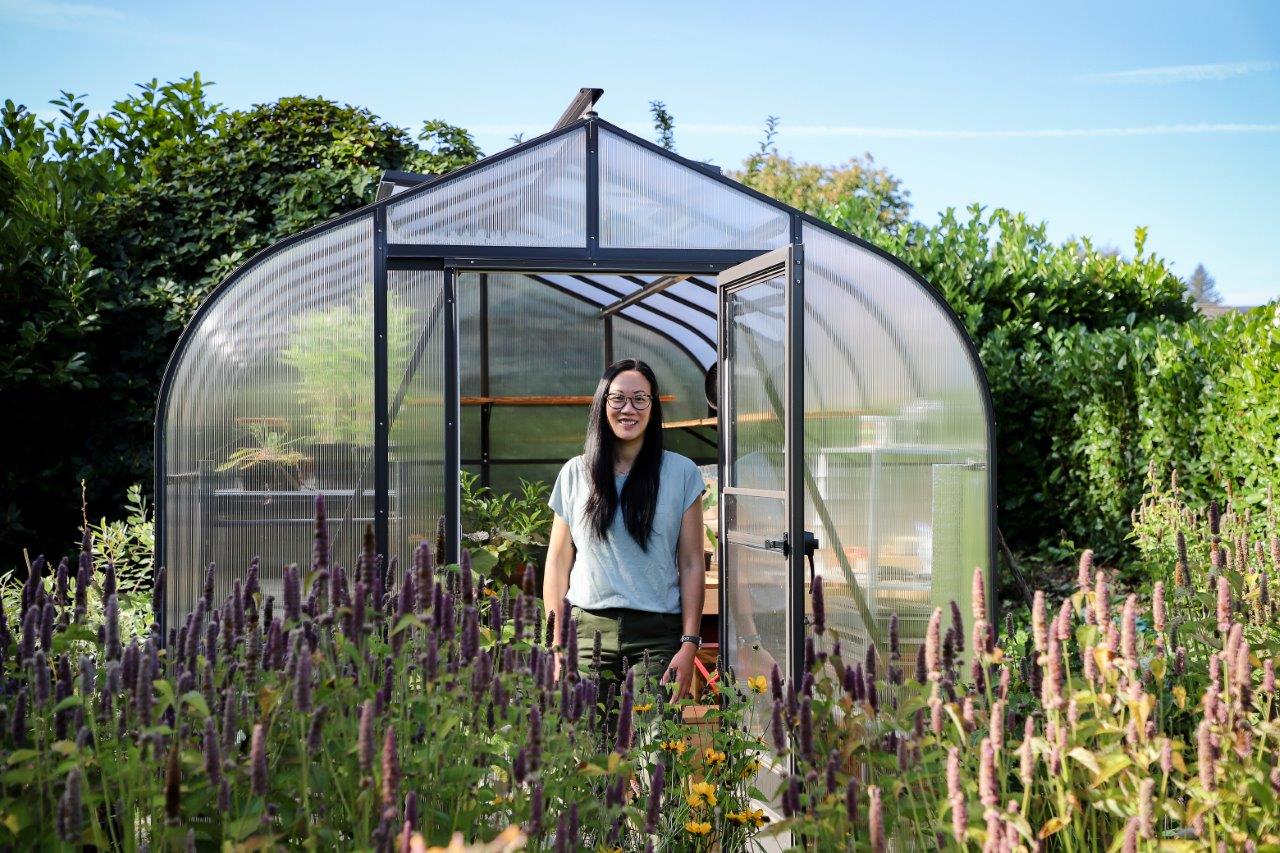 Why I Chose the Pacific Greenhouse
When it comes to my gardening journey, there's one thing I can't imagine living without: my Pacific greenhouse. Now in my third year with this model, I am so happy with my choice. The curved roof adds a touch of attractiveness to my front garden, and also has the added bonus of shedding snow and debris with ease. I can't recall ever needing to sweep anything off the roof, which is a huge time-saver.
While it would have been nice to have a slightly larger space to work in, the 8x12 size is very manageable and suits my needs perfectly for plant propagation and overwintering tender perennials. With its smaller footprint, I didn't need a permit in my city for this size. As for glazing, I opted for twinwall polycarbonate over glass. It's super durable with great insulating properties and was the more economical option that fit my budget. I appreciate how the polycarbonate isn't fully transparent, giving me some privacy and allowing me to use the space to store off-season items without it looking too cluttered from the outside.
Tour My Pacific Greenhouse:
Placement of My Greenhouse
My Greenhouse Garden isn't just a functional part of my gardening setup, its also a standout feature on the property. Since the greenhouse is situated in the front garden on the north side of my house, I carefully considered where to place it so that it would get ample sunlight throughout the day. We found a sunny spot that wasn't obstructed by the house or tall trees from the back garden. We made sure to position it lengthwise in an East-West orientation to capture the most sunlight throughout the day. We also had to consider access to water and electricity, as well as proximity to the home. With an outdoor outlet nearby, I am able to easily power the heater and fans by simply using a heavy-duty outdoor extension cord.
Why You Should Buy A Greenhouse
I know it was time to invest in a greenhouse when my projects and experiments began to outgrow the makeshift racks places along every window. Once I had the bench space, growing racks, and hanging planters in my greenhouse, it completely unlocked so many possibilities. Now, I'm able to garden year-round in the space: starting annual vegetables in the spring, experimenting with cuttings in the winter, and tending to interesting food plants.
For those who are on the fence about getting a greenhouse, ask yourself how you envision using the space. From selecting the materials, size, and foundation type to customizing the interior layout, you can create a functional and easy-to-maintain space that will bring your gardening dreams to life.
Tips for Making Your Greenhouse a Success
Simple Setup
Since I don't grow food in-ground inside of the greenhouse, I have plenty of space for year-round propagating, growing subtropical plants in containers, and also dedicating one side to an 8' long workbench with storage underneath. By keeping the greenhouse layout simple and not overcrowding the space, I can move around freely.
A simple setup with ample shelf space allows for good airflow to keep plants healthy while keeping the ground and surfaces tidy and hygienic. It also reduces the chance of mold growth, pests and diseases. I've found hanging planters, which attach to the interior bolt tracks using eyebolts, to be invaluable in my greenhouse. Not only do they look beautiful when planted up, they easily make use of vertical space and free up bench space for other gardening activities.
Shelves
One of my favorite features of my greenhouse is the ability to make use of the vertical space along the perimeter of the structure with shelving. I did this by taking advantage of sturdy metal racks that allow sunlight to pass through inside the greenhouse. I secured heavy-duty steel shelf brackets ranging from 12"-18" in length using nuts and bolts and added 4' cedar fence boards on top. I can not store up to 20 standard 1020 trays full of seedlings, thus freeing up even more valuable bench space for other plants. This addition is cost-effective, highly functional, and allows me to make the most of the interior space.
Heating Hacks
I love growing unusual subtropical plants, so it's important to keep them warm by heating the space to 12C/54F during the colder months. However, I also want to keep my electricity bills low and I've found a couple simple ways to keep my greenhouse cozy:
Bubble Wrap
Attaching bubble wrap to the interior walls of the greenhouse to prevent warm air from escaping. The shiny surface of the foil style wrap, which I buy in bulk from the hardware store, also reflects light back into the space, making it feel brighter on dark winter days.
Partition Wall
I use a partition to block warm air from the heater from entering areas that don't need heat, such as the storage space under my workbench.
No matter where you are on your gardening journey, a greenhouse is a game-changing addition to your home garden. Whether you're looking to grow food year-round or have a space for exciting experiments, these simple tips will help you get set up for success in your greenhouse.
Get More Greenhouse Gardening Tips in Our Latest Catalog